When HDMI first arrived on the scene, everyone rejoiced at no longer having to use bulky SCART connectors, or the confusing component video cables, ever again.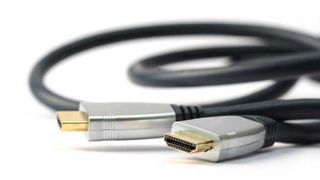 Instead HDMI offered high definition video with a connector that was just a little bigger than a standard USB plug.
Over the years the HDMI standard has seen continuous improvement, with extra features being added as the needs of televisions have changed.
HDMI 2.1 is the next step in that process. The headline feature here is support for 8K content at 60fps, but there are also a number of minor features that add up to a much more capable standard such as support for Variable Refresh Rates, Dynamic HDR, and Quick Media Switching, which should make it faster than ever to change between the devices attached to your television.
Higher resolutions and refresh rates
The new HDMI 2.1 cables will allow faster refresh rates, including 8K resolution video at 60 frames per second and 4K at 120 frames per second – and it's that second feature that will be the real selling point for gamers and home cinema geeks, at least at first.
"We've increased resolutions and frame rates significantly," Jeff Park, Director of Marketing at HDMI Licensing, said at CES 2017, adding that the Tokyo 2020 Olympic Games are going to be a driver for 8K TV content.
"NHK [Japan's national public broadcaster] is going to push 8K120 as an actual broadcast stream, and many consumer electronics manufacturers want to hit that target, so we're laying the pipe to give the industry flexibility. It's practical stuff."
Although it's about keeping HDMI at the bleeding edge, HDMI 2.1 actually goes ever further, supporting resolutions as high as 10K at 120Hz.
When will be see the first HDMI 2.1-ready TVs?
With the new standard having been confirmed as late as November 2017, it's unlikely that TV manufacturers will have time to implement the new technology in 2018's televisions (most of which are due to be announced at CES 2018 in January).
Does it matter if your next TV has HDMI 2.1 or not? For most of us, probably not; an 8K at 60Hz-capable television isn't going to be of much use for a while yet. But for gamers and movie-lovers, the prospect of a 4K 120Hz TV supporting scene-by-scene dynamic HDR will be tempting.